Service Desk

Service Desk
With our IT Service Desk or User Support Service we create a single point of contact for communication with IT services, providing them with the means of coordination or solution to respond to all their requirements.
We adapt the service to the customer's needs, offering multi-channel, 24-hour x 7 coverage, attention in different languages and high availability (redundant infrastructures in our service centres located in Madrid and Barcelona).
Single point of contact

We adapt the service

Total availability 24x7x365

Redundant Service Desk
OUR GOAL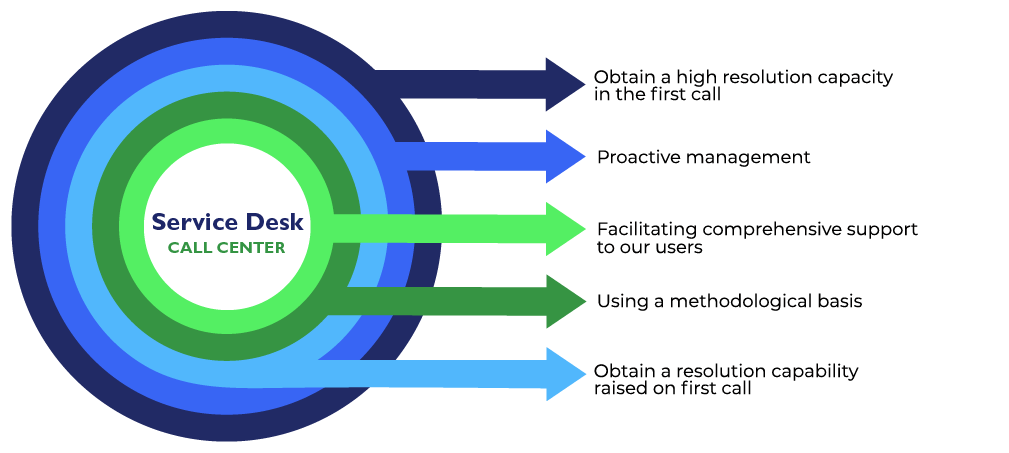 Editar pestaña
Our Service Desk is structured in two levels of attention SPOC1 (Levels 0 and 1 or also denominated Front-Office, for categorization of incidences, resolution and escalation to level 2) and SPOC2 (Level 2 also denominated Back Office, for resolution of incidences coming from the lower levels and of greater technological level). There are three areas of service support and auditing:
Back Office Technicians (ACD-Automatic Call Distributor) in charge of visualizing the activity of the switchboard, checking compliance with the SLA's (agreed service levels) and carrying out random listening of agents in order to adapt, correct and perfect the responses to incoming requests, thus improving the service provided.
Tools Back Office,, which visualizes and checks the activity of the ticketing tools used,verifies compliance with the SLA's and audits the tickets generated.
Back Office of Quality and Procedures,, responsible for ensuring compliance with the SLA's, implementing and monitoring the procedures requested by each of our customers and analyzing each and every one of the above points to look for points of improvement in services.
Editar pestaña